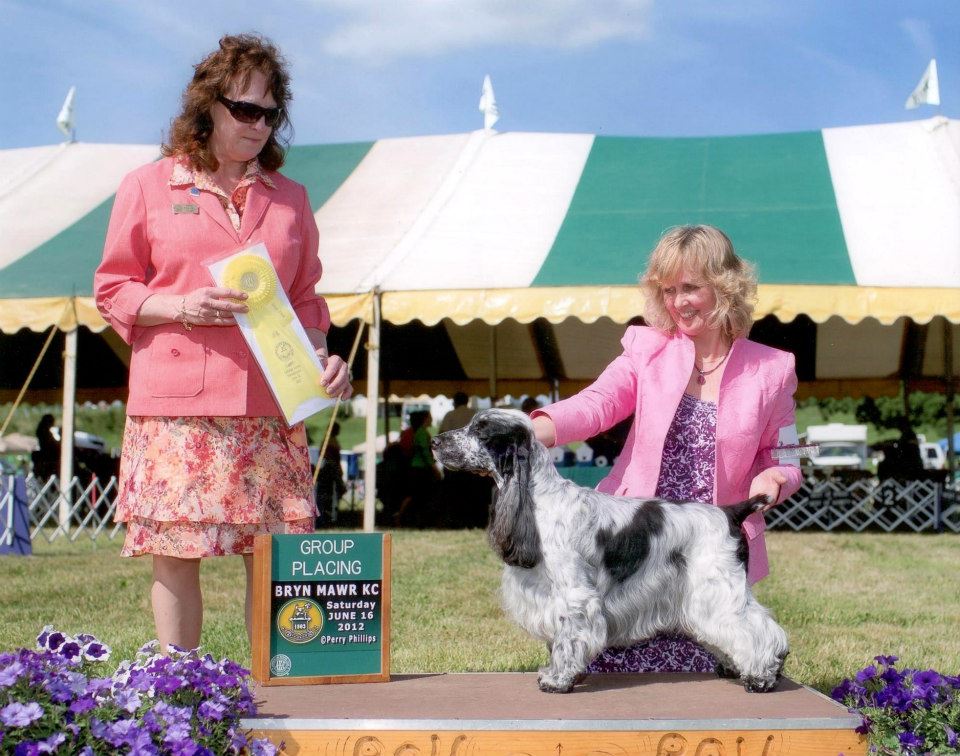 Multi BISS Am/Can Ch. Newstead Carnaby Acclaim,RN,ECM (Murdoch)
Ch. Edgewood Vendetta,ECM (Chigger) x Ch. Bellflower Reflection (Lulu)
DOB: 08/16/2001 -02/28/2013
PRCD - A1 Clear, FN - carrier, Baer - normal, OFA - good
Link to the Orthopedic Foundation website. The OFA stores all submitted and verified health test results. All of our dogs and their health testing can be found under their registered names.
Advanced Search | Orthopedic Foundation for Animals | Columbia, MO (ofa.org)

Murdoch has been a dream come true! Some highlights from his career - top ECS in Canada 2003 and 2004, multiple Best in Specialty winner, multiple group winner, multiple Best in Veteran sweeps and is producing wonderful puppies. Thank you to Robin and Frank (Newstead English Cocker Spaniels) for entrusting this wonderful boy to Kerri (Carnaby English Cocker Spaniels) and I. Pictured on the left winning the breed at the English Cocker Club of Canada's National Specialty 2011 (at 10 years old). Pictured on right at 8 wks.
News 2012!! Murdoch and I competed in Rally Obedience at the English Cocker Spaniel Club of America's National Specialty in Gettysburg, PA and he earned his first leg in Novice winning 1st in his class! He also competed in the Top Dog Invitational (his 4th invitation in the 4 times it has been held during his career) a very prestigious event and another proud owner moment!
At the supported entry at the Bryn Mawr Kennel Club show we were so happy that the veterans were able to compete at the breed level under respected long time breeder/judge Bonnie Threlfall. Murdoch was awarded "Best of Breed" and then onto a "Sporting Group 3" in a very competitive group!! Not bad for a boy that is almost 11 years old.
The same weekend he was also awarded Best Veteran in Sweeps and Select Dog under breeder/judge David Flanagan. This boy continues to make us so proud!
Our hearts were broken February 28, 2013, after extensive testing and the decision to perform a surgical liver lobectomy we lost our dear, sweet Murdoch to Carcinoma of the liver. He never had a sick day in his life before this and gave us his all everyday. There is not a day that goes by that I don't think of him with tears in my eyes but a smile in my heart for just having him in our lives for the years that we did. I thank him everyday for the legacy he has left for us but there will only ever be ONE MURDOCH!! We miss you so much Buddy....
Pedigree for Am/Can Ch.Newstead Carnaby Acclaim,ECM
English Cocker Spaniel/Blue Roan
Sire
Ch.Edgewood Vendetta,ECM
Blue Roan
Sire
Ch.Lynanns Sentinel
Blue Roan
Sire
Ch.Lynann's Telesis,ECM
Blue Roan
Sire
Ch.Carachelle Centurion,ECM
Orange Roan
Dam
Ch.Lynann's Precious Image,ECM
Blue Roan
Dam
Ch.Lynann's Timeless Essence,ECM
Blue Roan
Sire
Ch.Tejasvalle Maverick
Blue Roan
Dam
Ch.Lynann's Precious Image,ECM
Blue Roan
Dam
Ch.Edgewood Unforgettable,ECM
Sire
Ch.Edgewood Salute,ECM
Blue Roan
Sire
Ch.Stage Doors Blushing Groom,ECM
Blue Roan
Dam
Edgewood Quintessence
Blue Roan
Dam
Ch.Edgewood Remembrance,ECM
Blue Roan
Sire
Ch.Edgewood Fan-Tan,ECM
Blue Roan & Tan
Dam
Ch.Edgewood Memento
Blue Roan
Dam
Ch.Bellflower Reflection
Blue Roan & Tan
Sire
Ch.Stardust Cimarron,ECM
Blue Roan
Sire
Ch.Stardust Silver Spurs,ECM
Blue Roan
Sire
Am/Can Ch.Stardust Silver Dollar,ECM
Dam
Ch.Springfield O'Quince's Abbey
Dam
Pride Acres Carioca Stardust
Blue Roan
Blue Roan
Sire
Ch.Reklawholm Rockbeat,ECM
Blue Roan
Dam
Pride Acres Gleam of Stardust
Blue Roan
Dam
Ch.Bellflower Maybe Marvelous,ECM
Blue Roan & Tan
Sire
Ch.Berridales Dream Come True,ECM
Blue Roan & Tan
Sire
Ch.Chantilly's Fire n Ice
Dam
Dickins Tracy Tupman
Dam
Ch.Bellflower Just Joanna,ECM
Blk & Wht
Sire
Ch.Successor of Sorts,ECM
Blue Roan
Dam
Ch.Bellflower Eloquence,ECM