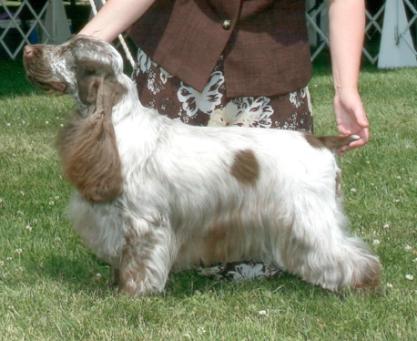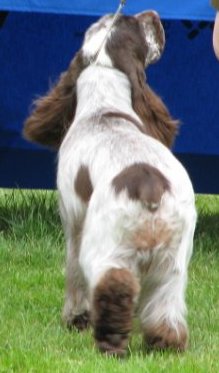 Ch. Haveago's Stardust Trilogy (Trillian)
BISS Am/Can Ch. Newstead Carnaby Acclaim, ECM x Haveago's Good Golly Miss Molly (Molly)
DOB: 12/15/2007 - 05/30/2020
PRcd - carrier, FN - clear, Baer - normal, OFA - good
Link to the Orthopedic Foundation website. The OFA stores all submitted and verified health test results. All of our dogs and their health testing can be found under their registered names.

Advanced Search | Orthopedic Foundation for Animals | Columbia, MO (ofa.org)

Trillian reminds us so much of our Ellie! She finished with multiple Best Puppy in Groups quite quickly in Canada. Trillian produced two wonderful litters for us and can solidly say she is the foundation of all of our puppies since. A very nice foundation to base a pedigree on, in my opinion. She is the mother of Tesla, Vixen, Nuggle and Jigger and has left us an incredible legacy! Proudly co owned with her breeder, Kerrie-Lyn (Haveago ECS).
Sady we lost Trillian during the height of the Covid-19 pandemic in 2020 when veterinary care was very difficult to organize. We assume it was cancer but do not have a definite diagnosis. Although she was almost 13 years old, it is never long enough. We miss her dearly.
Pedigree for Ch.Haveago's Stardust Trilogy
Liver Roan
Sire
BISS Am/Can Ch.Newstead Carnaby Acclaim,ECM/Blue Roan
Sire
Ch.Edgewood Vendetta,ECM
Blue Roan
Sire
Ch.Lynanns Sentinel
Blue Roan
Sire
Ch.Lynann's Telesis,ECM
Blue Roan
Dam
Ch.Lynann's Telesis,ECM
Blue Roan
Dam
Ch.Edgewood Unforgettable,ECM/Blue Roan
Sire
Ch.Lynann's Telesis,ECM
Blue Roan
Dam
Ch.Edgewood Remembrance,ECM
Blue Roan
Dam
Ch.Bellflower Reflection,ECM
Blue Roan & Tan
Sire
Ch.Stardust Cimarron,ECM
Blue Roan
Sire
Ch.Stardust Silver Spurs,ECM
Blue Roan
Dam
Pride Acres Carioca Stardust
Blue Roan
Dam
Ch.Bellflower Maybe Marvelous,ECM
Blue Roan & Tan
Sire
Ch.Berridales Dream Come True,ECM
Blue Roan & Tan
Dam
Ch.Bellflower Just Joanna,ECM
Blk & Wht
Dam
Haveago's Good Golly Miss Molly/Liver Roan
Sire
Am/Can Ch.Haveago's Merry Gentleman/Liver Roan
Sire
Am/Can Ch.Carnaby Corsair,ECM
Blue Roan
Sire
Ch.Craigleith A Pirate King,ECM
Blue Roan
Dam
Am/Can Ch.Carnaby Witches' Brew,ECM
Blue Roan
Dam
Am/Can Ch.Haveago's Ain't Mis' Behavin'
Blue Roan
Sire
Am/Can/Berm Ch.Westover Sir Lancelot,ECM
Liver Roan
Dam
Ch.Haveago's Lady Sings the Blues
Blue Roan
Dam
Am/Can Ch.Haveago's Promise of Stardust/Liver Roan
Sire
Ch.Stardust Cimarron,ECM
Blue Roan
Sire
Ch.Stardust Silver Spurs,ECM
Blue Roan
Dam
Pride Acres Carioca Stardust
Blue Roan
Dam
Ch.Stardust Amawalk Godiva,NA,NAJ/Liver Roan
Sire
Ch Amawalk's Here Comes Justice/Blue Roan
Dam
Ch Stardust Amawalk Windsong/Orange Roan