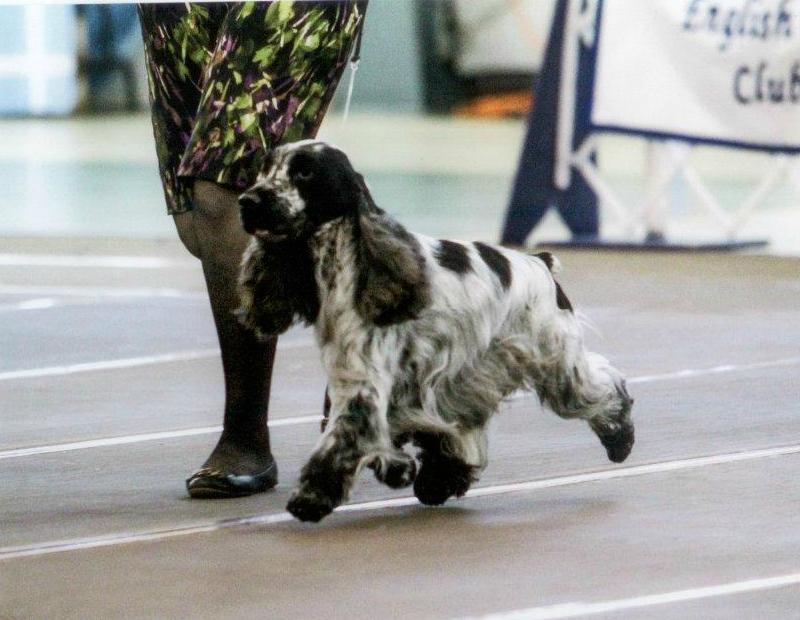 Ch. Haveago's Staking Acclaim (Zaphod)
BISS Am/Can Ch. Newstead Carnaby Acclaim, ECM (Murdoch) x Haveago's Good Golly Miss Molly (Molly)
DOB: 12/15/2007
PRcd - carrier, FN - clear, Baer - normal, OFA hips - Good, AN- clear
Link to the Orthopedic Foundation website. The OFA stores all submitted and verified health test results. All of our dogs and their health testing can be found under their registered names.

Advanced Search | Orthopedic Foundation for Animals | Columbia, MO (ofa.org)

Zappy is one of the sweetest dogs you will ever meet. He finished in Canada very quickly and already has a Group 1st under his belt. Now that his sire is retired from the all breed show ring, perhaps it is Zap's turn to shine. We will be working on his US championship next year.
News 2012!! Zaphod has had a great year so far! Travelling to the English Cocker Club of America's National speciality in Gettysburg, PA under respected long time breeder judge Ms. Virginia Lyne (Ranzfel ECS) Zap went first in his Open Dog class and was pulled in the Winners Dog line up! A thrilling win for us!
He is also the very proud father of his first Canadian Champion from his first litter - Ch. Heatherlea's Proudly Tangerine bred by Bobbie Tougas of Winnepeg, Manitoba. This lovely orange roan girl had quite a wonderful puppy career. Four "Best Puppy in Show's", Two "Sporting Group 3rds", Four "Sporting Group 4ths", Twelve "Best Puppy in Group" along with multiple Best of Breed wins!! We are just over the moon!
The English Cocker Spaniel of America's National Specialty 2015 proved to be very successful for Zappy!! We could not be more thrilled with our results! Zaphod won Best of Opposite sex in Veteran Sweeps under Carol Collins in the company of a beautiful line up of very competitive veterans. In the regular classes under well respected, breeder judge Barbara Heckerman he won third in his Open Parti class and 2nd in the Stud Dog class. Thank you Andrea and Lesley Albin for allowing us to use Yankee (Blazen's In A New York Min't) and Sierra (Blazen's In Mint Condition At Kalan) two of Zap's beautiful children.
The English Cocker Spaniel Club of Canada's National Specialty 2016, Zap was only entered in the veteran sweepstakes and was awarded Best in Veteran Sweeps!!! We are over the moon! At the same venue in 2009, Zap won a Group 1st at the all breed show in Ste. Foy, Quebec, his father Murdoch won Best in Veteran Sweeps at the ECSCC Specialty. We are so proud, it brought back some wonderful memories of Mur and created new special ones for Zap!
ECSCA National 2022, at 14 1/2 years old Zap entered the ring for one last time. We were so proud of him strutting his stuff around the ring in sweepstakes and placing in his class. He enjoyed ever minute!!
HAPPY 15th BIRTHDAY ZAPHOD!!!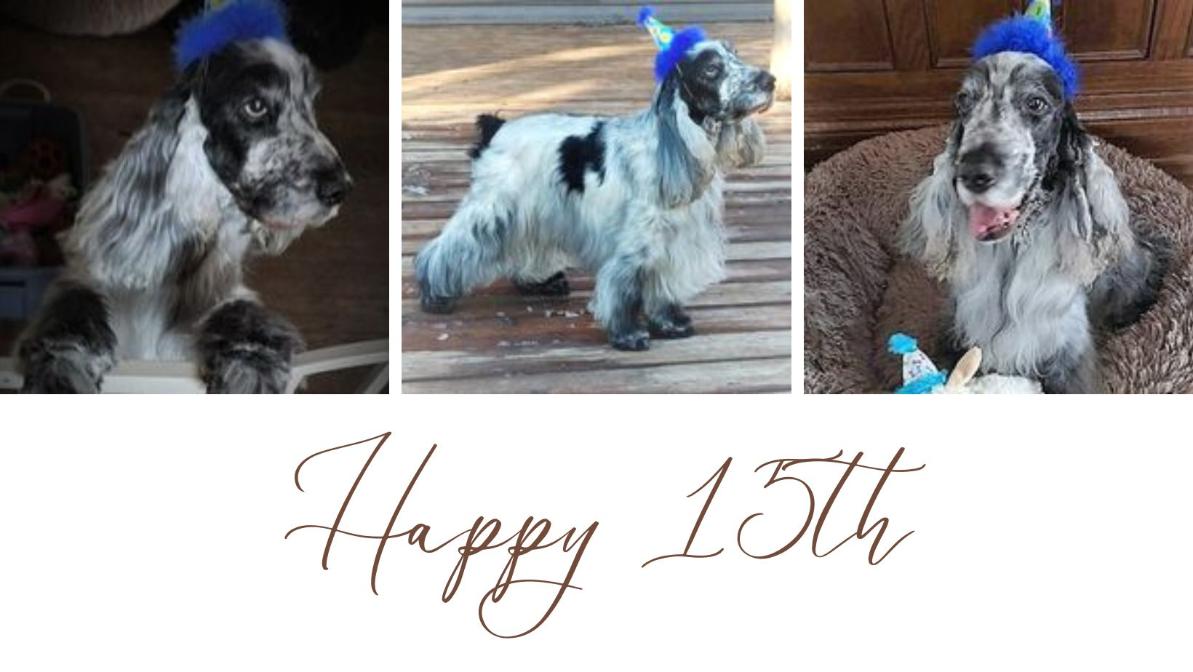 From left to right, Gabby (dam), Sierra, Andie Wolfe (owner/breeder of Sierra, Yankee and mom Gabby), Yankee, Zaphod and Diane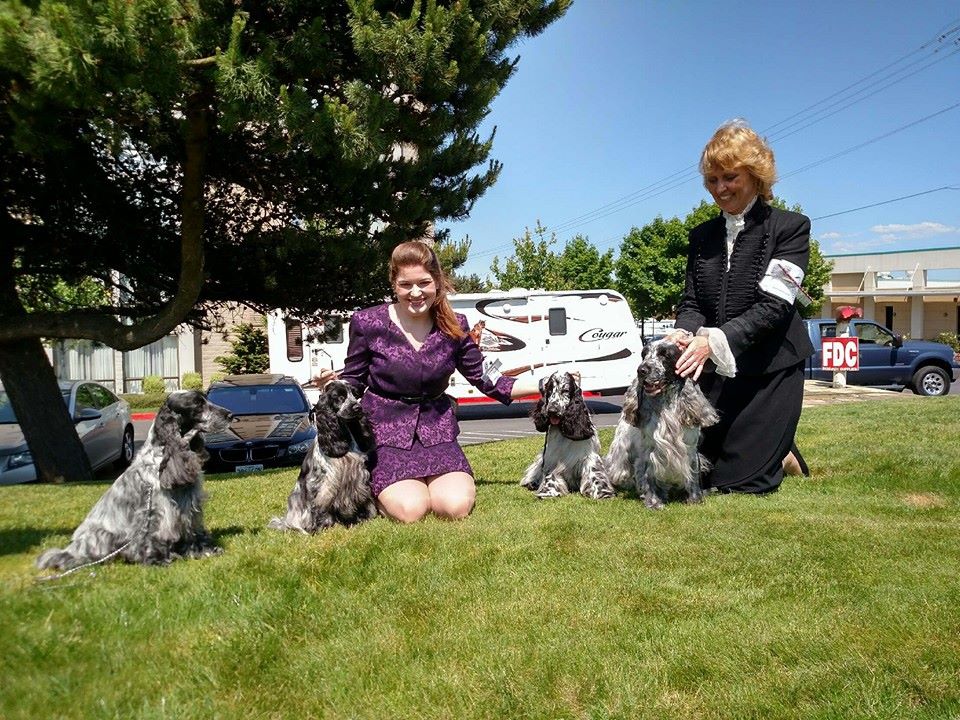 Pedigree for Ch. Haveago's Staking A Claim
English Cocker Spaniel/Blue Roan
Sire
BISS Am/Can Ch.Newstead Carnaby Acclaim,ECM
Sire
Ch.Edgewood Vendetta,ECM
Blue Roan
Sire
Ch.Lynanns Sentinel
Blue Roan
Sire
Ch.Lynann's Telesis,ECM
Blue Roan
Dam
Ch.Lynann's Telesis,ECM
Blue Roan
Dam
Ch.Edgewood Unforgettable,ECM/Blue Roan
Sire
Ch.Lynann's Telesis,ECM
Blue Roan
Dam
Ch.Edgewood Remembrance,ECM
Blue Roan
Dam
Ch.Bellflower Reflection,ECM
Blue Roan & Tan
Sire
Ch.Stardust Cimarron,ECM
Blue Roan
Sire
Ch.Stardust Silver Spurs,ECM
Blue Roan
Dam
Pride Acres Carioca Stardust
Blue Roan
Dam
Ch.Bellflower Maybe Marvelous,ECM
Blue Roan & Tan
Sire
Ch.Berridales Dream Come True,ECM
Blue Roan & Tan
Dam
Ch.Bellflower Just Joanna,ECM
Blk & Wht
Dam
Haveago's Good Golly Miss Molly/Liver Roan
Sire
Am/Can Ch.Haveago's Merry Gentleman/Liver Roan
Sire
Am/Can Ch.Carnaby Corsair,ECM
Blue Roan
Sire
Ch.Craigleith A Pirate King,ECM
Blue Roan
Dam
Am/Can Ch.Carnaby Witches' Brew,ECM
Blue Roan
Dam
Am/Can Ch.Haveago's Ain't Mis' Behavin'
Blue Roan
Sire
Am/Can/Berm Ch.Westover Sir Lancelot,ECM
Liver Roan
Dam
Ch.Haveago's Lady Sings the Blues
Blue Roan
Dam
Am/Can Ch.Haveago's Promise of Stardust/Liver Roan
Sire
Ch.Stardust Cimarron,ECM
Blue Roan
Sire
Ch.Stardust Silver Spurs,ECM
Blue Roan
Dam
Pride Acres Carioca Stardust
Blue Roan
Dam
Ch.Stardust Amawalk Godiva,NA,NAJ/Liver Roan
Sire
Ch Amawalk's Here Comes Justice/Blue Roan
Dam
Ch Stardust Amawalk Windsong/Orange Roan