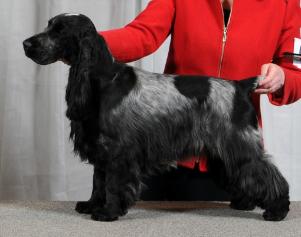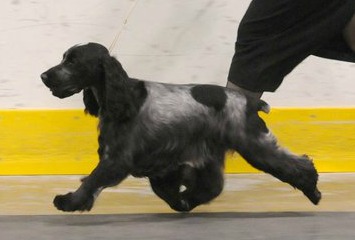 Ch. Proclaim Blue By You (Vixen)
Am/Can/Eng.Sh.Ch. Bitcon Let's Dance (Sam) x Ch. Haveago's Stardust Trilogy (Trillian)
DOB: 06/02/2010 - 07/24/2020
Vixen was not fully health tested as we decided not to use her in our breeding program, Baer - Normal, Patellaes - Bilaterally Normal
Link to the Orthopedic Foundation website. The OFA stores all submitted and verified health test results. All of our dogs and their health testing can be found under their registered names.

Advanced Search | Orthopedic Foundation for Animals | Columbia, MO (ofa.org)

Vixen is a natural show girl! She accumulated 6 points toward her Canadian Championship her first weekend out, along with multiple Best Puppy in Groups, two Best Bred By Exhibitor in Group and a Best Bred By Exhibitor in Show! We had so much fun showing and living with Vixen.
2020 was not a good year for our dogs. We were crushed to discover that Vixen was diagnosed with cancer and although we tried to have it surgically removed the tumour was too adhered to vital systems that she would need for a quality life. Always a difficult decision but we will always make those decisions on what is best for our dogs. It never makes it hurt any less even when you know you made the right decision.
Pedigree for Ch. Proclaim's Blue By You
Blue Roan
Sire
Am, Can CH, SH CH
Bitcon Let's Dance(UK)/
Blue Roan
Sire
Wiljana Ragamuffin(UK)/Blue Roan
Sire
Sh.Ch.Palacecraig Go West (UK)/Blue Roan
Sire
Glowhill Apollo Severn (UK)/Blue Roan
Dam
Palacecraig Be Fair (UK)/Blue Roan
Dam
Sh.Ch.Lennoxgrove Rag Doll (UK)/Blue Roan
Sire
Shelohn Surely Great at Lennoxgrove (UK)/Blue Roan
Dam
Lennoxgrove Tamarisk (UK)/Blue Roan
Dam
Bitcon Summer Storm(UK)/Blue Roan
Sire
Shanaz Chancer (UK)/Blue Roan
Sire
Haradwaithe Specialist (UK)/Blue Roan
Dam
Pentlandview Sugar N' Spice from Shanaz (UK)/Blue Roan
Dam
Sh.Ch.Bitcon Westwind (UK)/Blue Roan
Sire
Sh.Ch.Bitcon Troubador (UK)/Blue Roan
Dam
Bitcon Moonlight Memories (UK)/Blue Roan
Dam
Ch.Haveago's Stardust Trilogy/Liver Roan
Sire
Am/Can Ch.Newstead Carnaby Acclaim,ECM/Blue Roan
Sire
Ch.Edgewood Vendetta,ECM/Blue Roan
Sire
Ch.Lynann's Sentinel/Blue Roan
Dam
Ch.Edgewood Unforgettable,ECM/Blue Roan
Dam
Ch.Bellflower Reflection,ECM/Blue Roan and Tan
Sire
Ch.Stardust Cimarron,ECM/Blue Roan
Dam
Ch.Bellflower Maybe Marvelous,ECM
Blue Roan & Tan
Dam
Haveago's Good Golly Miss Molly/Liver Roan
Sire
Am/Can Ch.Haveago's Merry Gentleman/Liver Roan
Sire
Am/Can Ch.Carnaby Corsair,ECM
Blue Roan
Dam
Am/Can Ch.Haveago's Ain't Mis' Behavin'
Blue Roan
Dam
Am/Can Ch.Haveago's Promise of Stardust/Liver Roan
Sire
Ch.Stardust Cimarron,ECM
Blue Roan
Dam
Ch.Stardust Amawalk Godiva,NA,NAJ/Liver Roan